Termin: 11./12.05.2018
Ort: Bad Nauheim
Kurssprache: deutsch
In this workshop David Euler will present the differential diagnosis of syndromes that prevent patients from healing and/or responding to treatment. By palpating the abdomen, neck, back and key acupuncture points, David will demonstrate the construction of a treatment strategy that will address the constitutional presentation as well as the most effective ways to accommodate the symptomatic presentation. In this style of acupuncture verification of the points is achieved through the immediate feedback from the patients' body. This is a very gentle needling technique, which ensures that patient's comfort and her or his ability to concentrate on the changes at the palpation sites. David will demonstrate on participants of this workshop the treatment strategies in order to provide a practical tool that can be used immediately. In this workshop the demonstrations are projected onto a large screen to ensure maximum visual learning and clear presentation. Adrenal Gland Exhaustion, Stagnation of Blood, Stomach Qi Deficiency, Immune System Disorders, Autonomic Nervous System Imbalance, Structural Imbalances, and Disturbance Fields such as scars are among the most important strategies that will be presented and demonstrated.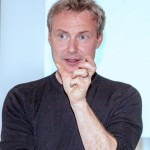 David Euler, L.Ac. (Palpation Based Style) ist ein weltweit gefragter Referent. Er hat Verbindungen zu den Theorien der westlichen Medizin etabliert. Es besteht ausreichend Gelegenheit zur Praxis.
Hier können Sie den Kurs buchen.
Weitere interessante Spezialkurse in 2018 finden Sie hier.
Bei allen Fragen beraten wir Sie gerne unter 089 / 710 05-11 oder fz@daegfa.de